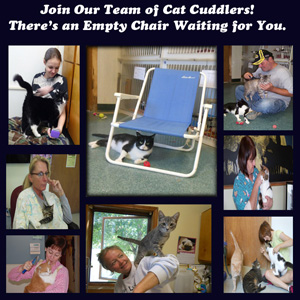 Cat Cuddlers Needed in the Afternoons
 Do you like the sound of purring? The feel of a cat tail wrapping around your leg? A furry feline crawling onto your lap and snuggling in as soon as you sit down? This is our goal for every shelter cat who is awaiting adoption. 
 We're restructuring our cat socialization program and we need volunteers to play, groom and love on our cats. We'd like to have volunteers for every afternoon. We will provide the comfy chairs, the cat toys and brushes, and you just need to provide the love. Or bring a book or your laptop and sit among the cats, providing a homelike situation. We even have plans to start clicker training our cats! Our team of volunteers will be updated weekly, so you'll always know who needs help, who has been adopted(!!) and what new exciting plans are happening. Our goal is for Team Cat to have fun working with fellow cat lovers and being a part of getting our furry friends adopted into forever loving homes. If this sounds like the purr-fect thing for you, please go to our volunteer page and fill out an application.