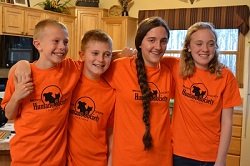 Thank you for your interest in helping the animals of the Brown County Humane Society.

Due to space limitations, you must be at least 15 years old to volunteer AT the shelter. However, there are many ways in which you can still volunteer and help the animals, and we always welcome you to visit the shelter any time we're open.
Below is a list of ideas for your volunteer time or school project, or you can create your own project.

Make Something for the Cats or Dogs
Here are some ideas of ideas of things you can make for the animals. Or, do some research online and find ideas of your own. Just be sure that whatever you make is safe for animals. Homemade dog treats, cat toys, pet beds, and outdoor shelters are always helpful and fun for the cats and dogs.

Bird Seed Bells – to attract birds for the cats to observe from the windows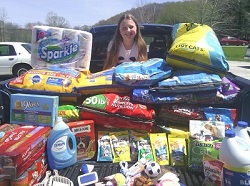 Hold a Fundraiser or Supply Drive
Have a yard sale, dog wash, bake sale or other event and donate the money you raise to support the animals.

Collect donations of cat/dog food or items from our wish list.

Challenge the other classes in your school to see who can raise the most money in a certain time

.

Make toys and treats and sell them to raise money for the animals.
Be an Ambassador for the Animals: Educate Others
Write a letter to the editor of your local paper about an important topic. Here are a few ideas:

The benefits of pet adoption

The importance of spay/neuter

Why it's great to adopt older pets

Spend an afternoon handing out information about the shelter and the adoptable animals at the mall, in downtown Nashville, or another well-trafficked location. [Call the shelter in advance to get materials]

Give a presentation to your class, your scout troop, your church, or other group about the shelter or animal adoption.
Whatever you choose to do, you will be making a difference for homeless animals.