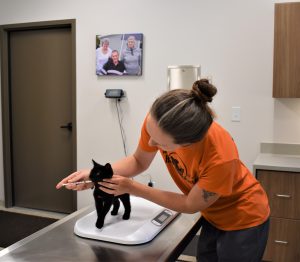 Do you have a passion for animals? Do you want to make a difference in the lives of hundreds of cats and dogs every year? The Brown County Humane Society is looking for friendly, hardworking individuals to join our team.
BCHS is a community resource dedicated to promoting animal welfare. We provide temporary shelter to pets in need and promote adoption into permanent, loving homes. We support and promote spaying and neutering to eliminate pet overpopulation. We advocate compassionate care and respect for animals through public education.
Perks of being a member of the BCHS team include:
-Working with a nationally recognized animal welfare organization in a brand new facility
-Being surrounded by passionate, like-minded animal lovers
-Being a critical piece in helping BCHS continue to reach 97% save rate annually
-Knowing you're making a difference in hundreds of animals lives
-The opportunity to gain a wide range of skills in regards to working with animals including animal behavior/training, appropriate restraint techniques and more!
To apply for any of our open positions listed below, send your resume to jobs@bchumane.org.
BCHS conducts background checks and drug testing of all potential employees.
Current Openings
Development Manager – Full Time
The Development Manager position reports to, staffs, supports, and works in close coordination with the Resource Development Committee. The responsibilities for this position include working to secure financial resources for the short and long-term future to achieve the mission, goals and objectives of the organization. Duties include, but are not limited to, developing, coordinating and implementing annual fundraising plan; building and cultivating relationships with new and current supporters to include partnerships with businesses and other nonprofit organizations; grant writing; managing special events; and database management. 
Click here to read the full Development Manager Job Description
To apply, send your resume to jobs@bchumane.org.
Animal Care/Customer Service – Part time and Full Time
Animal Caretaker Duties include, but not limited to, daily cleaning/feeding/enrichment of the animals in the facility; assist the medical team in monitoring and treating health concerns; exhibiting all-star customer service in regards to working with potential adopters as well as assisting with general shelter inquiries; and being an advocate for the animals and the people that love them.
The ideal candidate would have a flexible schedule with weekend availability, some experience working with animals, a customer service mindset and a passion for helping animals and the community.
Volunteer
Volunteering at the shelter is a great way to get your foot in the door, so that when an opening occurs you would already be familiar with the organization. If you would like to volunteer, visit our volunteer page to learn more.