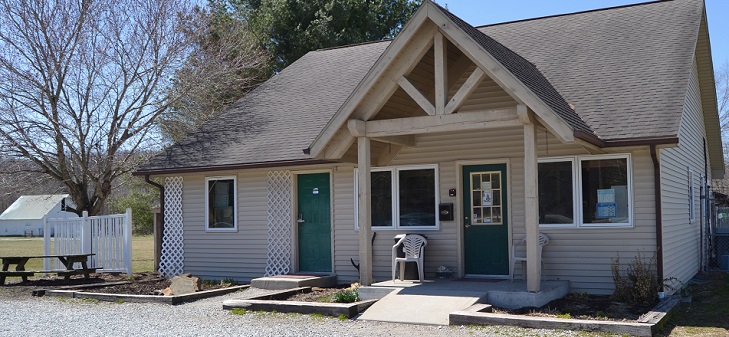 The Brown County Humane Society, Inc. (BCHS) was organized in 1966 when several civic minded individuals realized that the animals in Brown County were in need of a voice. For several years they rescued abandoned and abused pets, fostered them in their own homes and worked to find loving permanent homes for these displaced pets.
They went about educating fellow Brown Countians about responsible pet ownership, spaying and neutering and they provided a clearinghouse for lost and found pets.  During these years this group of dedicated volunteers worked tirelessly to raise money in order to fund an animal shelter.
Finally in 1977 the BCHS leased a building and opened the doors to Brown County's first animal shelter.  This arrangement worked until 1982 when the lease expired.  Again, the society was back to placing animals in foster homes and working hard to raise money for a permanent animal shelter.  In 1986 a generous BCHS member donated 6 acres of centrally located land with a barn to the BCHS and enough money was in the bank to construct an animal shelter.
That shelter opened on January 5, 1987.  In 1988, the BCHS was successful in getting an Animal Control Ordinance passed in Brown County.  Shortly thereafter the BCHS reached an agreement with the newly formed animal control board to provide a place for animals retained by the animal control officer. 
In 1992 the barn was renovated and fencing erected.  The dogs now had a big play yard.
Exactly 13 years after first opening the shelter, on January 5, 2000, construction on major additions to the shelter began.  This renovation included adding additional dog kennels, isolation rooms, a 'meet a pet' room and a larger lobby/office area.  This shelter served our community well for 31 years. But, costly repairs and changes in standards of care made the need for a new animal shelter a necessity.
In 2018, fundraising efforts began to secure $3.2 million to construct a new shelter that would better meet the needs of not only the animals, but also the staff and community. Thanks to the generosity of our community, groundbreaking took place in May 2020. And, just thirteen short months later, operations were moved to our current facility.
The focus of efforts in the past few years has been on implementing new programs designed to decrease the euthanasia rate. Several programs have been successful including:
Spay/neuter prior to adoption
Spay/neuter public assistance program
Foster program
Dog transport program
Breed rescue partnerships
Off-site adoptions
Behavior training
These programs have dramatically decreased the number of pets euthanized.  We have increased our Save Rate from a normal of about 30% prior to 2000 to an incredible 98% for the past seven years.