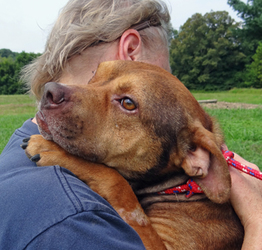 We understand that unplanned changes happen in life that may cause you to question whether keeping a pet is in the best interests of you and your pet.  At the Brown County Humane Society we believe in lifelong commitments to pets and we are here to help others create a long-lasting, harmonious relationship with their pet. 
If life has gotten difficult with your pet, we are here to help you make the best choice for your situation.  Surrendering your pet to a shelter should be a last resort, so let's work together to ensure the best possible solution for you and your pet.
Please consider the following alternatives prior to bringing your pet to the shelter. 
STEP 1:  Consider ways to keep your pet in your home.
STEP 2:  Consider re-homing your pet on your own

If the above resources do not address your situation, then consider re-homing your pet on you own.  Animal shelters are very stressful places for pets.  If you can safely re-home your pet, it is a better alternative than having him go to a shelter.  Click here for great tips on re-homing your pet. 
Email a recent picture and a good description of your pet to shelter@bchumane.org and we will help to advertise his availability.  Interested adopters will be directed to contact you. You will be responsible for determining the right home for your pet.  This service is available to Brown County residents only.  Your pet must be spayed or neutered prior to advertising on our site.

STEP 3:  Consider placing your pet in a foster based rescue group
Transferring your pet to a foster based rescue group will be less stressful for your pet than placing him in a traditional kennel-type shelter.  Not all rescue groups are the same, so be sure you do a thorough job of screening the rescue group prior to relinquishing your pet to them. 
If your pet is a purebred or predominantly one breed, click here to find an appropriate breed rescue group
If your pet is a mixed breed, click here and search for rescue groups near you
Things to ask when screening a rescue group
Veterinary references and call to confirm the veterinary practice works with the rescue group and feels they are reputable

Ask to see their adoption contract.  It should state that pets should be returned to the rescue group if the adoption does not work out

Ask for two references of people who adopted from the rescue.  Call them and find out about their experience

Ensure their policy is to vaccinate and spay/neuter prior to adoption

Ask under what conditions they will euthanize a pet
STEP 4:  Relinquishing your pet to the Brown County Humane Society
If you've exhausted all the alternatives listed above and feel the best solution is to relinquish your pet to the shelter, please call to make an appointment. 
Our goal is to find a happy home for every healthy and treatable pet in our care.  We can achieve this by knowing more about the pets that come into our shelter.  Understanding your pet's behavior, likes and dislikes, and lifestyle will help us find the best family for him.  For this reason we request you make an appointment by calling 812-988-7362. 
Please note that due to the small size of our shelter we can only accept pets that belong to Brown County residents.
Information provided by other organizations, including links to external websites, does not constitute endorsement by the Brown County Humane Society.