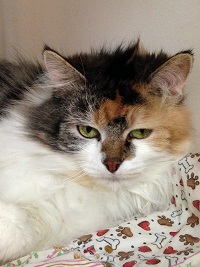 Skittles – Just like the candy, Skittles comes in both sweet and sour.  Sometimes, she's delicate and gentle, and other times she's feisty and fussy.  
You see, Skittles is really a princess at heart. Raised to be ladylike, delicate, and feminine, she shies away from all things rough and boisterous. Skittles believes that everyone should move through life with grace and decorum. No grabbing. No squeezing. No yelling, for goodness sake.
If you break any of these rules, she will gently put you in your place and let you know she is displeased. Then she will settle in next to you with forgiveness and let you pet her soft, soft fur.
Like any princess, Skittles requires a bit of pampering in the form of regular brushing, to keep her beautiful coat free of tangles. A soft bed to rest upon, perhaps an occasional lap, would be required.
Basically, Skittles is looking for a home where she'll be appreciated as the royalty she is.