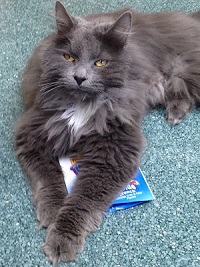 Rhett – as suave and sleek as his Southern namesake. So handsome, with eyes that will melt your heart, and a coat like spun silver. When he came in, he had some pretty bad mattes in a few places, so his coat is a bit lopsided where he was shaved in a few places. It gives him character.
Rhett's a boy who knows what he wants, which is usually plenty of attention and some treats. If you don't give him the attention he wants, he's known to tap you very gently with his paw until you do. Tap. Tap tap. Tap.
Rhett can be a bit feisty when he's looking for fun. He's been declawed on all four paws, so he might use his teeth to nibble when you play too rough. He's just having fun, but it might be a bit much for small children.