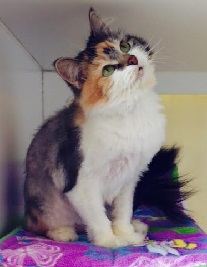 Skittles – This joyful little girl was once withdrawn and disheartened!
Often referred to as Princess Skittles, this beautiful kitty had the reputation of being a bit stand-offish. Although beautiful, her long fur had developed horrible mattes, which made her very uncomfortable. She didn't really like to be pet or held and she became very withdrawn.
Eventually, in order to remove all of the mattes, Skittles had to have her long locks shaved. Poor thing. She looked so bedraggled and skinny. But she immediately began to feel better. Within days, her personality started to brighten and she was happy to have her head scratched and to play a little bit in her kitty condo.
Now, she's a whole different cat! Funny and flirtacious, she actually seeks out attention. She loves to play with toys of all types, scooping them up in her little paws and throwing them around. She's even become a lap cat! Her transformation has been wonderful to watch.
Skittles would still do best in a quiet home, but she's full of joy and ready to become the love of your life!