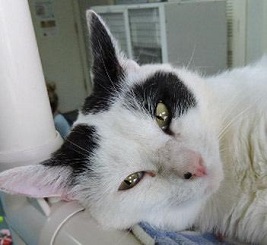 Bailey – Do you see a lap cat in your future? If so, Bailey, with his pink ears and his sweet little pink nose, is your guy.
Although pint-sized in stature, his love and adoration for others is huge. This includes both people and other cats. While he loves playing with feathers and toys, he's also happy to climb into your lap and settle there for hours if you let him.
Finally, he'll roll over on his back for additional rubs and before he falls off into deep slumber. He might gently lick your hand in loving appreciation.
This sweet boy is ready to go home with you whenever you are ready.