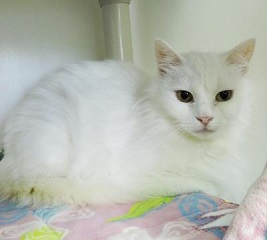 Lillian – Everything about Lillian is gentle and soft. She plays gently, she purrs gently, she moves gently.
A truly an elegant and graceful girl, Lillian is quiet and a bit shy at first. It's probably because she's recovering from raising a beautiful litter of kittens.  She deserves some pampering and comfort.
It doesn't take long for her to warm up, though, and then she enjoys being petted and loved on as much as the next kitty. While she relaxes, you'll find yourself relaxing, too. Her soft fur and gentle ways draw you into an almost meditative mood.
If you'd like some peace and calm in your life, Lillian might be the perfect girl for you.