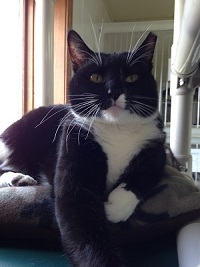 Tyler is looking for a buddy.
You see, Tyler has had a long journey. He's survived being rescued from a hoarding situation with more than 100 other cats. He's survived living at the shelter for 2.5 years. He's overcome his terror of people to become a very sweet cat that loves attention.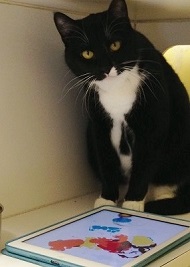 Along the way, he's learned to paint. He's learned that he loves to have his butt scratched and his chin rubbed. He's found his playful side. He'll even roll over and let you rub his belly, the ultimate sign of trust. That's an amazing accomplishment from a cat that was once considered feral.
The one thing that Tyler has enjoyed the most has been his cat buddies. Tyler just adores having a big, gentle, boy cat to hang out with. He'll follow them around, giving them head butts and body bumps. He'll groom them. He'll watch them play and learn from them.
But poor Ty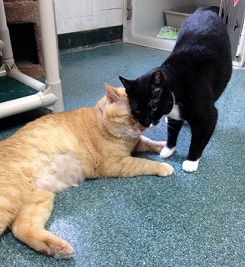 ler…his buddies keep getting adopted without him. First it was Jericho, who he lived with for almost a year. Then Little Guy, who helped him make the transition into the big cat room. Last weekend, he lost two buddies, Tucker and Elroy, when they were adopted at the Indy Mega Adoption event!
We know that Tyler's home and buddy are out there. Maybe you can help us find them. Or maybe it's yours!