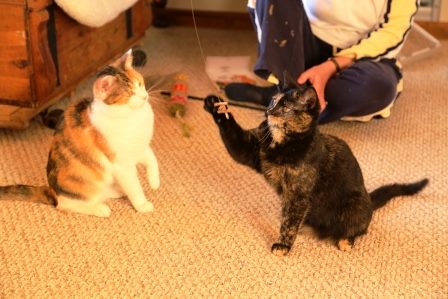 Vixen and Rosemary – two fabulous cats that need to find homes now. They are both the exact type of cat that people always ask for: lap cat, playful, sweet, good with dogs, good with all people. Not to mention, beautiful! So what's the rush?
Both cats have Feline Leukemia virus (FeLV). Neither cat has shown any signs of illness, but FeLV gives them weaker immune systems. One key to managing the disease is keeping their lives stress-free.
Vixen and Rosemary are in a foster home. We now have the opportunity to send both cats to live at the sanctuary at Best Friends in Utah. They'll be well taken care of there. But a 1600 mile trip will be very stressful for them. More importantly, we believe that there is NO reason these wonderful cats should spend their lives at a sanctuary, instead of knowing what it's like to live in their own homes, giving love and comfort and being part of a family.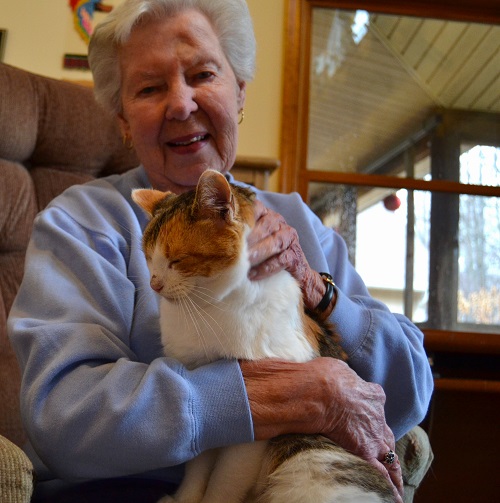 Vixen is a total lap cat! She loves to snuggle and she loves to supervise all activity. She especially loves people. When guests come over to the foster home, she'll be the first to greet them. Vixen is also an avid bird watcher and she loves dogs!
Rosemary is curiosity plus. Birds and squirrels can keep her entertained for hour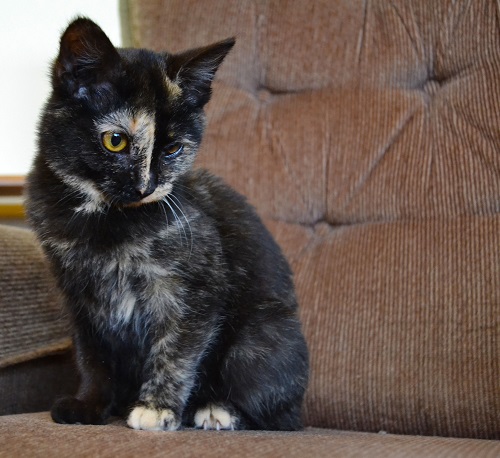 s. But what she really likes is having people play interactive toys with her. She's quite athletic and super. When she's played out and ready for a nap, Rosemary seeks out people to curl up with. Rosemary is quite comfortable with dogs.
Vixen and Rosemary do not have to be adopted together. Although they enjoy playing together, they are not dependent on each other.
Watch their video to see how sweet and silly they are.