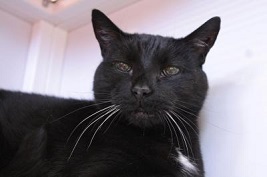 Jordan – When you look into her eyes, it's like you can see into her soul, and then you can see the entire world reflected back at you.
Jordan's is a sweet, quiet girl who would love to have a real home of her own. She loves to be brushed with a nice soft brush and will roll over to provide as much brushing surface as possible. She also loves to have her head and chin scratched.
Jordan can be very playful. Although her eyes look cloudy and her pupils are dilated, she does see, and especially likes to play with the laser pointer, chasing the little red dot.
Jordan is declawed, so she will need to be an indoor only cat. She also prefers to be an only cat, or at least have plenty of space of her own. Without her claws, or perfect eyesight, other cats make her feel defensive.

That won't be a problem for Jordan, though, since she prefers the company of people, or just  relaxing on a nice, soft bed!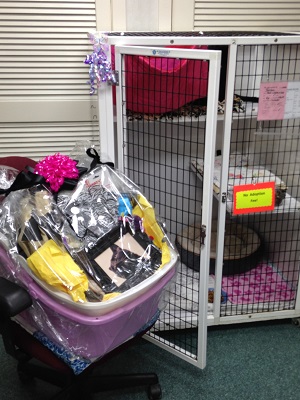 Jordan has earned such a strong place in hearts of the staff. So much so, that she's got a specially decorated kitty condo and one of the staff has created a special basket of items to help her get started with her new family! It includes all of the basics: food, a litter pan, and kitty treats.  Plus there's a cat carrier, a soft bed, lots of toys (including a laser pointer, of course!), a framed photo of Jordan, and a book of special stories about cats.
Our staff sees hundreds of cats each year, so you know when they think one is special, she really must be special!