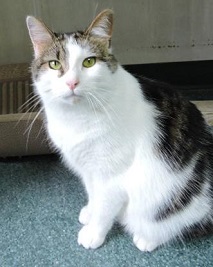 Tommy – "Let's play!"
Tommy's got a big personality and can amuse you for hours. He runs, he jumps, he spins. He loves to play with all of the toys, and the other cats. He loves to tussle with the kittens.
Once he's used up all that youthful energy, Tommy wants to settle in for some quality time with you. He's such a sweetheart and loves the attention.  Then, a bite to eat, maybe a nice nap, and he's ready to go again.
Are you ready for some games?