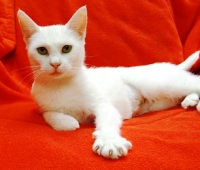 Beautiful inside and out!  That's Felicity.
She's a small, petite,  ALL white, with the cutest little face and she loves people. 
She wondered up to a house in the country and marched right in like she belonged there.  Unfortunately the home she chose wasn't able to add a kitty to their family, so she came to the shelter.
She's not so sure about the other cats yet.  She doesn't mind them being in the room, but she doesn't want them too close. 
Felicity seeks out attention from people, and she's happy to sit on your lap or relax in the window and watch the world go by.