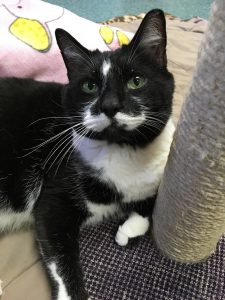 Charlie is a charmer. His suave good looks, complete with elegant mustache and "tuxedo" attire, give him the air of a fine gentleman. As he gently brushes against you for some petting, or settles comfortably on your lap, his calm demeanor lets you know you're in the presence of gentility.
But wait…there's a toy! Suddenly, the furry gentleman turns into a little kid, joining in with the kittens for rousing games of Catch the Feather, Wrestlemania, and Peek-a-Boo. If you listen closely, you can almost hear the giggles.
Charlie has it all…good looks, a sweet personality, and an inner child that's still going strong.