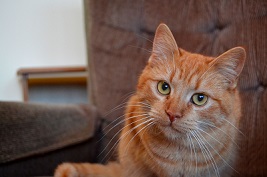 Percy's personality checklist:
Playful, check.
Affectionate, check.
Loves other cats, check.
Lap cat, check.
Outgoing, check.
Sensitive, check.
Handsome, check.
What more could you ask for?!  Percy is quite simply perfect!
At just 8 months old, he has an amazingly mature, yet playful personality.
He easily makes friends with new cats and people.  A bit on the sensitive side, his little feelings do get hurt if another kitty swats at him.  He just wants everyone to love him!
Percy loves to snuggle.  Laps are great, but he also likes to lay behind you and put his little paws on your shoulder so he can whisper in your ear.
Perfect Percy has feline leukemia virus, but is healthy now and could be for a long time.  This virus is not contagious to people or dogs, but is to other cats.  He will need to be an only cat or live with other cats that have the virus