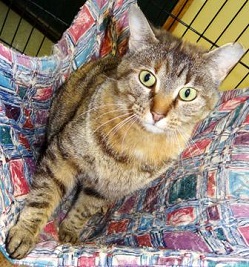 Macey – a beautiful, sassy girl with a bit of a loud mouth! She'll let you know exactly when she wants attention and she expects you to listen!
She's a wonderfully unique cat who loves to lounge in her hammock and watch the world go by through the window. On days when the shelter is closed to the public, Macey likes to play "office," entertaining the staff while they try to work. She's earned a reputation as being very sweet and silly.
While she enjoys attention from humans, Macey would rather not share her space with other cats. This chatty catty has more than enough personality on her own.

Come and see this sassy girl for yourself. She'd love to meet you!