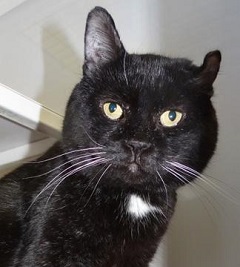 Javier – We don't know where he came from, but he's obviously lived a complicated life, and he's got the scars to prove it. One ear is almost gone, and he's a bit rough around the edges. He's a macho boy, with a bit of a take-it-or-leave-it attitude. 
Javier's been fending for himself long enough. He's slowly learning what it means to be taken care of. He doesn't quite understand the idea of taking it easy, but he's getting there. He really seems to enjoy relaxing in his hammock!
Javier may not be cuddly, but he is kind of cute.  There's something very solid and brave about Javier. You know he'll be there, looking out and taking care of things.