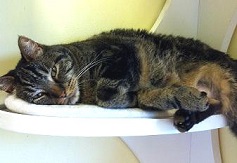 Jerico – What a handsome cat.  Jerico a big boy, with large, wise eyes. In fact, many people say he looks like an owl when he's perched on a shelf supervising our lobby.  That's one of his favorite spots, draping himself over the edge of the resting shelves in the cat room, legs hanging down the sides, eyes half closed.
Jerico came from a home where he was an only cat and was very loved.  When his owner died, he was brought to the shelter.  It took him a long time to adjust to new people, and he's still a bit wary at first, but he's such a curious guy, he can't help himself…he has to check everyone out.
Fortunately, Jerico's discovered that he loves to have his chin rubbed and neck scratched, and a bit of brushing goes a long way toward earning his trust.  He also loves breakfast, snack, and dinner times, so anyone willing to feed him earns big points in the affection department.
Jerico is a great cat with a huge and unique personality.  He'd do best with a quieter home and some patience to give him time to warm up to you, but once he does, you'll have a loyal, funny, beautiful friend with a huge heart.