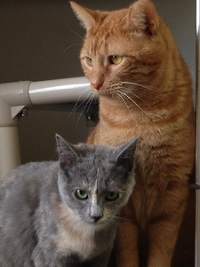 Simba and Seville – We don't usually post two cats together as our Cat of the Week, but these two have become so closely associated with each other, we'd love for them to find a home together.
Simba and Seville came to the shelter at different times.  In fact, Simba has been with us for quite a while…more than a year.  He was terribly shy when he first arrived, but now he's developed into the sweetest, most gentle guy. He loves to have his chin and head scratched and will roll over onto your hand to keep you there.
Seville was one of several kittens that came in together.  Although still very shy, she was adopted quickly. The family who took her home had her de-clawed, then decided to return her to the shelter.  She came back even more frightened than before.
We decided to put Seville in with Simba, because he's always been good with other cats.  Well, these two bonded immediately.  Seville became Simba's little shadow, sticking to him like glue.  Each day, she ventures out more to explore the great beyond, but as soon as she gets nervous, she just runs back to Simba.
Because Simba has been with us so long, we tried taking him to one of our off-site adoption centers to see whether it gave him a better chance at adoption.  The center lost their air-conditioning, so we brought him back to the shelter and we could tell just how much Simba and Seville had missed each other.
If you have room in your heart and home for two cats, and patience to give little Seville more time to blossom, we hope you'll consider these two together.  Some bonds shouldn't be broken.