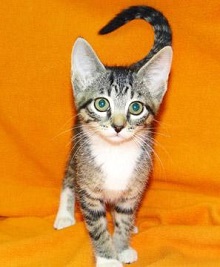 Kittens – Who doesn't love a kitten?  They're tiny bundles of purring joy and loveliness.  They're cute.  They're funny. They're adorable.

They're also plentiful.
It's kitten season and we're full up.  Brown kittens, black kittens, boy kittens, girl kittens, orange kittens, kittens with spots, kittens with stripes, kittens with mittens.
Pretty soon, these kittens will grow up and they'll no longer be happy all bundled up in one hammock together.  And we'll be out of room.
If you've been thinking of adopting a kitten, now is the time.  Come on in. You'll have the pick of the litters.
In fact, why not take two?  They're small.