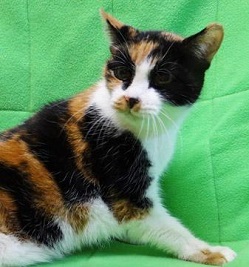 Lucinda – What a lovely girl she is. 
Lucinda's had it a bit rough, though.  She spent all of her life in one home, only to be given up because the new girlfriend didn't like cats.  It's a shame, because she's one of the sweetest kitties we've ever had. Now, in her later years, she's having to adjust to a new life.

It's taking Lucinda some time to adjust, though. She doesn't eat as much as she should, and she likes to find a comfy spot to hide away.  But if you sit with her, Lucinda will lean against you and purr for as long as you let her. 
What she really wants is attention…and love.  She's got so much more left to give.