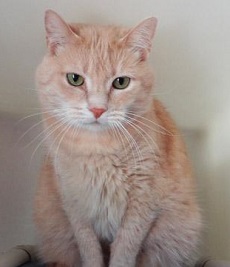 Tom Tom was surrendered to the shelter when his owners had to move.  They took their two other cats, but decided to leave Tom Tom behind.  We don't know why, because this guy is amazing. 
He looks like the quintessential "tomcat", with his big, macho face and his large, strong body. But it turns out, he's just a big softy. First in line for attention every time someone walks in the door. 
Tom Tom was de-clawed on all four paws, so he can't be an outdoor cat, but he's so affectionate, he probably won't want to stray anyway. 
His time at the shelter has resulted in a bit of a paunch, but with some exercise and a play will help with that.
Tom Tom is very friendly and seeks out attention.  He'll be a wonderful companion.