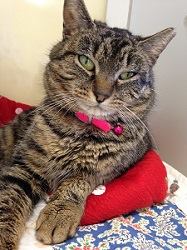 Sadie Mae – If you're looking for a lap cat, or a quiet and gentle companion, you need to meet Sadie Mae.
With her slight tilt of the head, her big green eyes, and her petite frame, Sadie Mae is the most charming little kitty. She's quite the lady, not at all demanding. She would prefer, instead, to sit with you in comfort and keep you company.
Sadie Mae would be a great kitty for a little girl to share her secrets with; a wonderful companion for an older person who prefers a little less activity; or the  perfect co-worker for a home office (she's great for bouncing ideas off of and she won't try to eat your papers).
There is something very special about this girl.