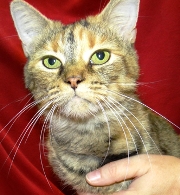 Kit Kat is a sweet, nuzzley girl, with the most beautiful mix of colors.
She gives great head butts, letting you know she likes your attention.
She's a bit quiet, and hasn't really decided yet how she feels about the other cats.
She just needs a bit of time to adjust in order to show her real personality.