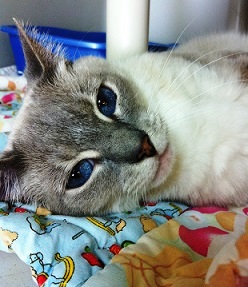 The gorgeous blue eyes say it all. This is Malerie.
She is a little lady who loves to be petted and loved on.
She's a bit shy at first, but once the petting begins, she responds with loud purring.
Have you ever wanted to clicker-train a kitty? She'd be a great candidate and is quite an athlete. She loves high places and she could jump through a hula-hoop no problem!
She's looking for a home where she can just enjoy her toys, the sunshine and a cozy bed.
If you are a craft sort, I am sure she would love a custom cat tree to climb and lounge on too.