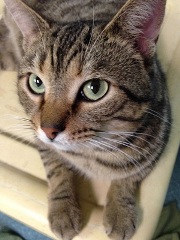 Casanova – To know him is to love him. 
This boy is a real heart breaker, and he knows it. 
You won't be able to resist the charms of his big green eyes, his gentle head bops, and his soft fur, especially when he curls up in your arms. 
Like any lover boy, Casanova isn't always happy to share your affection with the other cats, but he'll tolerate them as long as you keep most of the focus on him.  That shouldn't be too difficult as his charismatic personality will keep you engaged.