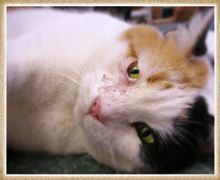 Saffron is that long sought-after spice that will enhance your life–well, so is this little girl.
Our Saffron is such a sweetie that you'll be wondering how you got along in life without her.
She's not crazy about other cats, but as long as they don't have to sit together, she is fine. She likes her own space.
This young lady is a playful girl and loves to chase jingle balls.
She would love a forever home with lots of windows so she can bask in the sunshine all day long.