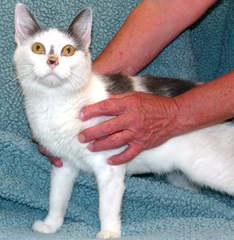 Twinkles – What a difference we've seen in Twinkles since she came to the shelter.  This formerly shy "little" girl is now a super-friendly, playful, attention-seeking sweetheart.
She is also no longer "little".  Twinkles has a big appetite and loves to eat not only her own food, but her roommate's food, too.  As a result, she's rounded out her figure quite a bit.
Twinkles just needs a home where she has room to run and play and a family who loves to play with her.  She'll work off those extra pounds in no time.