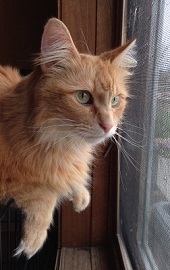 Sobe is such a character!
There's no denying how gorgeous he is.  He's super handsome, with quite a bit of sassy thrown in. He's also a great communicator, although he hasn't quite learned the proper way to express what he's feeling (he'll sometimes growl when he wants attention).
Sobe was surrendered by his family, and he's not adjusting to all the other kitties in the shelter very well. He is rather a King of the Jungle, so older kids or adults would be best for him.
This kitty is simply… unforgettable!