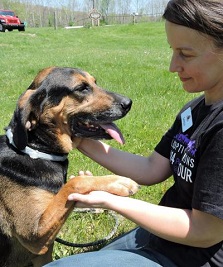 Uncle Jesse – Although not an old dog, Uncle Jesse has "old soul" eyes.  When he looks at you, it's as if he knows exactly what your heart feels. 
Uncle Jesse is a real "people" dog and is happiest when hanging out with a person, laying his head on their knee or shoulder, or his entire body on their lap.   His calm, gentle nature acts as a natural de-stressor. 
While he helps relieve your stress, you can help Uncle Jesse with his. He suffers from separation anxiety, so we're working with him to be more comfortable on his own. He's looking for a home where his family will be with him as much as possible, while he gets used to his new life.
Come meet Uncle Jesse and let your worries disappear.