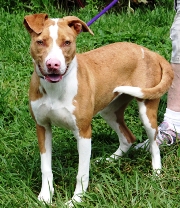 Remember that perfect girl in high school – cute, smart, athletic, confident and popular with the boys?
Well, here at the BCHS shelter, that describes Bailey exactly.
Bailey has 3 "boyfriends" that she loves to play with in the exercise yard. And boy can she play! She wears all 3 guys out and is still ready for more running.
She's also very treat motivated and loves to learn tricks.
And cute – oh, yeah, just look at those perky ears and white tipped tail. Bailey is looking for an active family that will enjoy teaching her new things to keep her mind busy.