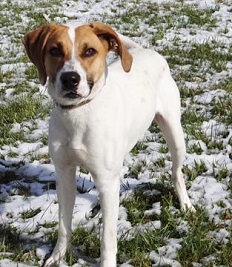 Legacy – Ask the staff about Legacy and they all say "Awesome dog!". 
Legacy is fantastic with other dogs.  He has many doggy friends at the shelter and adjusts his play style to whoever he is playing with.  He'll chase those that like to run and he'll roughhouse with those that like to play like bumper cars. 
Legacy is also fantastic with people.  He enjoys cuddling and will try to sit in your lap, although at 50 lbs, that is a little much!   Legacy is a great dog to hangout with as he is happy doing whatever it is you are doing.  Want to chill out and watch the sunset, Legacy is right by your side.  Hiking and camping would be great fun with Legacy as he enjoys the outdoors.  He'd be a hit at the dog park. 
At just a year old, Legacy has years of fun to share with you.