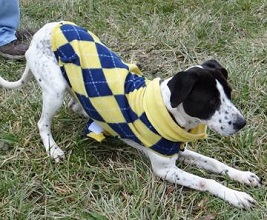 Gwen – First toss of the frisbee and Gwen was all over it!  She's a natural! 
This silly little pup gets so excited when she carries the frisbee in her mouth that she bounces along like a bunny.
Full of pep, she has the most adorable play bow that she uses to entice other doggies to play with her.  They just can't resist!  And she's just as friendly with people. 
Still a young dog, less than a year old, she's eager to learn new things and will be a breeze to train.
Watch Gwen play with her frisbee and bow to her doggy buddy.