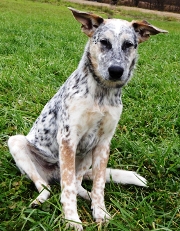 What a cuddler Pilgrim is.
Sit down near him and he will plop down right next to you and put his head in your lap. He can sit for hours while being petted. For such a young dog, Pilgrim is remarkably calm.
He recently visited the vet because he didn't seem to be using his back legs normally. The vet did not find anything wrong other than poor muscle mass. Therefore, it is recommended that Pilgrim take multiple short walks each day to build up his muscles. This is perfect for Pilgrim because it ensures he gets lots of people time.
If you are looking for a young, calm dog, stop in and visit Pilgrim. You might just find the perfect companion for Thanksgiving.