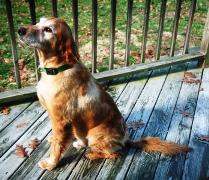 Big Red was pretty pitiful looking when he first arrived – matted, covered in dirt and fleas. He seemed sad and smelled bad.
Upon arrival Big Red walked very slowly with his head hanging low like he was embarrassed about his condition.
But, wow, what a difference a trip to the groomer made in his attitude. He came prancing out of the groomers office with head held high and a gleam in his eyes and he's never looked back.
He is now a confident and content dog.
He's been living in a foster home while being treated for heartworm. He got through the treatment with flying colors and is now ready to find his forever home.
His foster family raves about his great manners in the home. He is completely housetrained, gets along great with other dogs and cats and is a dream to take on a walk. He does not attempt to get on furniture, but loves big fluffy dog beds.
Big Red enjoys being with people and will faithfully stay nearby without being underfoot. If you are looking for an easy dog to live with, Big Red is your boy!