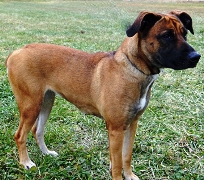 Watch out for Gloria's big brown eyes, they will melt your heart!
Gloria is a calm, little lady for her young age.
She trots right beside you on a walk and leans against your legs if you stop.
Gloria is a bit timid when meeting new people, but with a bit of coaxing she'll come right up to you.
Gloria adores attention and will enjoy a family that has time to lavish her with love.