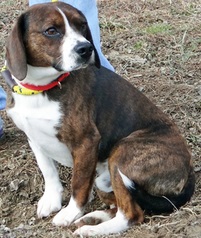 Stedman
Did you have a favorite stuffed toy you carried around as a child?
That's what comes to mind when you meet Stedman.  You just want to pick him up and carry him everywhere you go.  And he would be all for that! 
He's just a little tyke that loves to cuddle.  Like a child's confidant, he'll listen quietly to your sad stories and joyfully celebrate your happy days with you. 
Stedman is definitely a lapdog and is looking for someone to adore him.  In return he will be your faithful friend forever. 
Come meet Stedman and be prepared to fall in love.