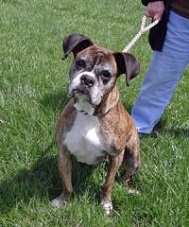 Ruby – Don't let that white face of Ruby's fool you – she might be a senior, but she's full of energy and can run circles around other dogs! 
A happy girl, Ruby can't wait for the dog walkers to show up each day and take her out into the play yard.  She keeps them laughing while she runs here and there and then stops in for a quick pet before she's off exploring again. 
Ruby's quiet in the kennel after her run and enjoys a nice afternoon nap.  She is super friendly and is ready to bring lots of smiles to her new family.