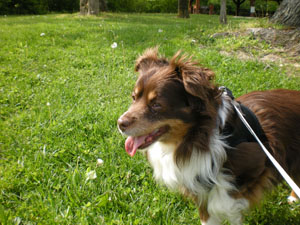 Scarlett was my little adventure girl. She LOVED her walks in the park and in the neighborhood. Her goal was to enjoy the journey and let the destination take care of itself. She could easily walk for 2 ½ hours at a stretch, marking her territory all the way.
And riding in the car was a little bit of heaven for her. She had a harness that kept her tethered to the seatbelt and was just long enough to allow her to lean out the window and catch the breeze. With her silky long mane blowing in the wind, she stood straight and tall trying to grab every molecule of air that flew by her. I used to tell her that she looked like a supermodel doing a photo shoot with those giant fans blowing in her face.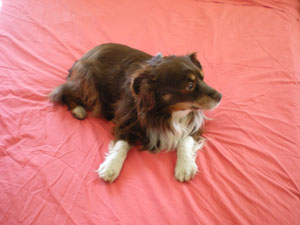 Her full name was Katie Scarlett O'Hara because she was full of spunk and would never give up no matter what trials and tribulations came her way.
Apparently, she traveled a long distance before she was picked up by animal control. I think she knew that if she could just get to the Brown County Humane Society, then her troubles would be over.
Katie Scarlett loved her chicken and turkey treats, but one of her favorite treats was a whole wheat baguette from Panera.
And her special, special treat—the one she got on the way home from a trip to the vet– was the kid's turkey dinner from Boston Market; she liked the sweet potatoes and corn bread almost as much as the turkey.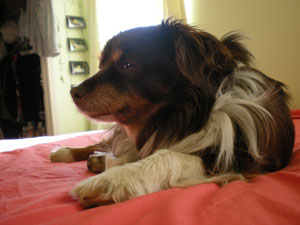 Four days before she went to heaven, Katie Scarlett helped me plant my summer flowers. She was watching my every move as I filled planters with red and white impatiens and my flower bed with what would soon be four foot tall pink, red and orange zinnias.
She patiently soaked up the sun while she watched me work. Then, when everything was planted, and I was just about to fertilize and water, two of her favorite dogs, Oreo and Zoe, came marching up the street. That was just too exciting for Scarlett to ignore.
Before I had time to grab her, she flew past the planters and dashed across zinnias. Miraculously, not a single flower was damaged, but she uprooted the green metal plant fence and dragged it across the yard. That was it—I had to put her back in the house for just a bit.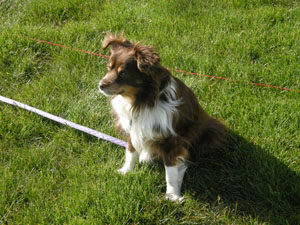 But Katie Scarlett was not deterred. She still intended to be part of the action. As I was watering the flowers, I saw my little angel grinning from ear to ear as she swayed back and forth across the width of the window above the flower bed. Somehow, she had managed to jump up on the gliding ottoman without falling. She didn't seem to mind at all that every move of her tiny little body caused her to sway to and fro on the ottoman.
That was my girl—always up for an adventure, and always, always true to her mommy. I will miss her for the rest of my days.