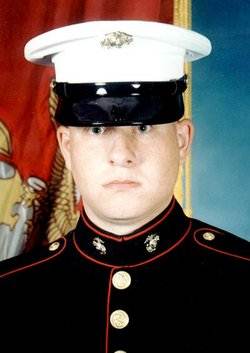 Sgt. Jeremy McQueary was a life-long animal advocate. He was a husband, a father, a native of Indiana and Brown County. He was also a United States Marine who served three tours in Iraq and Afghanistan. In 2008, just six weeks after the birth of his son, Sgt. McQueary lost his life serving his country.
We are honored to announce that we have received a grant from the Dog Tag Brewing Foundation in honor of Sgt. McQueary. Jeremy's family is honoring his life by teaming up with Dog Tag Brewing Foundation to provide matching funds for the Brown County Humane Society's phone-a-thon, which raises money for animals in need of serious medical care, and to sponsor the adoption fees of senior and special-needs pets.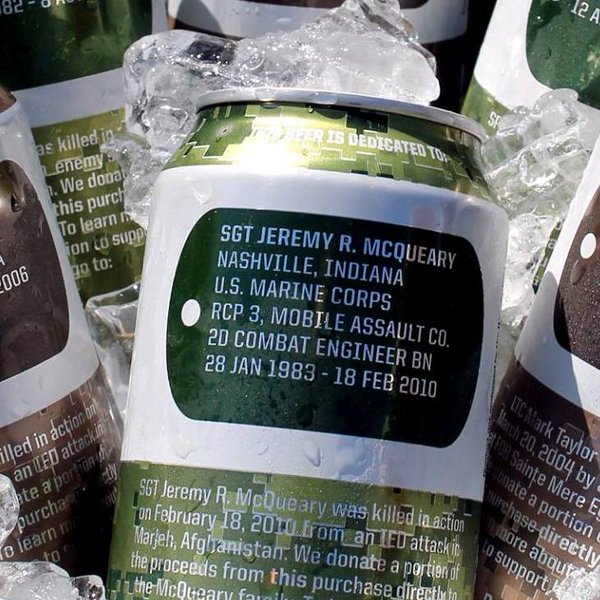 The Dog Tag Brewing Foundation focuses on sharing the legacies of Fallen Warriors in ways that are meaningful to the families and inspire America to honor and celebrate their lives. They work with the families of men and women who lost their lives in service to our country to identify or create Legacy Building Projects, which they then provide grants to support. Each project and Fallen Warrior is then featured on a Dedication Can, so that their story is shared and their legacy is honored.
According to Sgt. McQueary's family, they chose the Brown County Humane Society for Jeremy's Legacy Building Project because "He loved animals and loved Brown County. He wanted to live here so badly.  He was deployed three times and he had a goat, and chickens and other random things there." In addition to participating in the phone-a-thon, the family has provided personally meaningful names for each of the senior or special needs animals that will qualify for the waived fees, and written letters to include with each adoption packet.
If you would like to donate to the medical fund in honor of Jeremy, click here.
[Funds donated before June 15 will be included as part of the phone-a-thon and will be doubled through the matching grants provided by four foundations, including the Dog Tag Brewing Foundation.]
About Sgt. Jeremy R. McQueary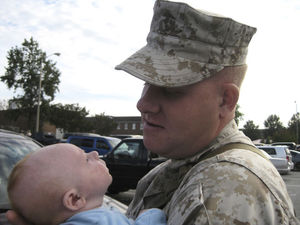 Jeremy R. McQueary, a native of Columbus Indiana, followed in his family's footsteps and joined the US Marine Corps when he was 18 years old. A typical small town boy, he had a contagious smile, strong work ethic and an eagerness to please. Along with a bit of mischievousness!
He married his high school sweetheart, Rae, who became pregnant after Jeremy's 2nd deployment in Iraq in 2008. It was no secret to anyone that Jeremy was quite possibly the happiest man alive.
Six short weeks after the birth of his son, Hadley, Jeremy was deployed to Afghanistan. There, during the Battle for Marjah, SGT. Jermey R McQueary gave his life alongside LCPL Larry Johnson while searching the city for Improvised Explosive Devises. Jeremy had volunteered to take equipment into Marjah, Helmand Province, to aid in building searches that were being performed. He stayed to provide extra security. The Taliban had rigged the Red Cross building where they had caches of weapons and ammo stored. When a captured Taliban cut the bolts on the building the IED planted there exploded killing Jeremy and LCPL Johnson.
Jeremy's spirit will live on through the lives he has touched and his legacy will continue through the life of his son. You can read more about Jeremy and his comrades in Bing West's book, THE WRONG.