Our Cat of the Week is Helga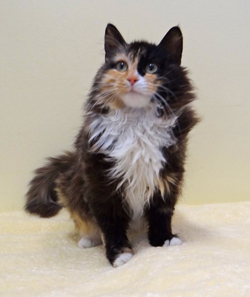 What's that sound? It's me purring!
My name is Helga and I am quite a gorgeous girl with my medium length calico fur!
I am a gentle girl with a quiet and loving personality. I adore sitting in your lap while you snuggle with me.
I am just a year old and I love to find fun things to play with, such as toy mice, jingle balls etc.
I love to be brushed and will purr and purr, showing you how much I love to be pampered.
I think you and I could be best friends. 
Watch my video and you will see how much I love playing with flowers!