Our Cat of the Week is Romeo!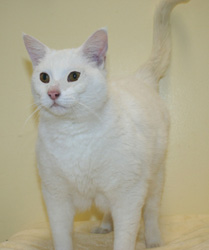 My name is Romeo, and as my name suggests, I am total lover-boy! I enjoy the company of people, especially if I have a lap to sit in. I'm kind of a big boy, but I still think of myself as a little guy.
In my new home, I would love to have a sunny spot to sleep and some birds to watch. I love toys, too, especially interactive ones where you will play with me, like a feather on a stick.
I am easygoing and I love to talk, telling you about my day and asking about yours.
Not to brag, but I am a very sweet guy, won't you give me a chance? I do have 1 special need, though. My eyes don't produce enough natural tears, so I need to be on eye drops every day. We do not know if this is a lifetime thing or if my eyes will kick into gear after a few months of drops and start producing tears again. But really, it is such a minor thing. It shouldn't stop anyone from adopting me. If it does, you'll be missing out on the best friend you could ever have.
I am around 3 years old. I am at a foster home right now, so please call ahead and we will arrange to meet.
Have a look at my video and you will see what a cutie I am.