Our Cat of the Week is Milo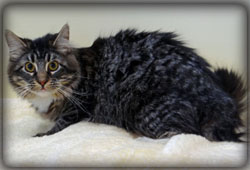 Want to play toys with me? I like feather sticks and jingle balls. Oh, sorry, I didn't introduce myself. I'm Milo.
I'm about 2 years old, but still very much a kitten in attitude! And check out my handsome fur! You can't get any better than that!
I am a little shy around other cats and tend to head the other way instead of hissing at them. I'm a lover, not a fighter!
I have a lot of energy, so you'll need to play with me everyday for about 10 minutes, but I am so much fun to play with, you won't even notice that 20 minutes have passed instead!
I'm also a cuddle-bug, who likes to curl up on your lap when I'm sleepy.
I like hugs and kisses.
I will greet you that way each time you come home. If you're looking for someone like that, look no further–it's me!!
Watch my video and you'll see how much fun I have playing with my toys.