Our Cat of the Week is Henry!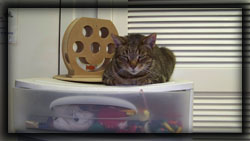 My name is Henry and I'm a no-fuss kind of guy. Three things you need to know about me:
1) I love playing with toys.
2) I get along with other cats just fine and
3) I have the funkiest tail you will ever see on a cat. It's skinny at the end. It makes me unique and handsome at the same time!
I love to curl around your legs when I greet you. I'm slowly getting used to being picked up. At first it scared me, but I'm starting to like this thing called "hugs".
If I sound like the best cat in the world to you (you're right, of course!), then come to the shelter and we can meet. I know we'll be instant friends. Oh yeah, I'm 4 years old, just the purr-fect age!
Check out my video to discover which toy is my favorite!!