Our Cat of the Week is Horton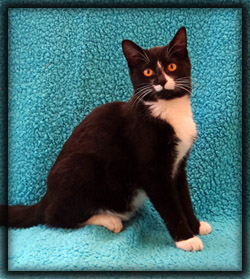 Horton Hears a…Meow?
I'm Horton and I like making friends to kitties who need one. Some kittens aren't as confident as me, so they just need a little help being social. That's where I come in. I listen for a quiet meow and I come running, asking if that kitty needs a friend. It's fun for me to play with them or to cuddle with them, until they become as friendly as me.
Because I love all new things and new people, my forever home can include other cats, kids and even a dog–as long as he doesn't try to give me a bath. I don't like dog spit!