Our Dog of the Week is Spanky!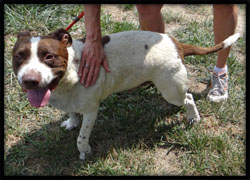 Spanky here! And yes, I am a Little Rascal!!
I have an independent personality but am a pushover for a good back scratch!
I'm a stout, powerful guy who does pull somewhat on the leash because I'm so excited, but I'm learning very quickly how to walk properly by my handler's side.
I'm not crazy about other dogs, so I'd prefer a home without any others, if you don't mind. 
What do you say, want to give me a forever home?
I spent my life on a leash. Watch my video to see how much I love being free!!