Our Dog of the Week is Gillian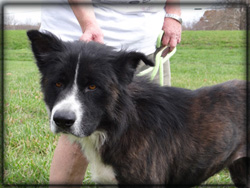 Sweet Talker Gillian. That's my nickname. I can speak when I want a treat. It's not loud, more like a whisper, but everyone seems to know that I want a treat.
They also tell me that I'm pretty cute too. I'm a Chow Chow/Shepherd mix.
I'm a little shy at first, but once I know you, I will show you how much I love to play.
I would love to have a forever home of my own. I dream about it every night. Will you make my wish come true?