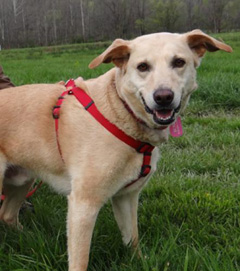 Our Dog of the Week is Kata!
Kata lost his home when his people fell on hard times. He's a wonderful dog, and is really hoping someone out there can help him pick up the pieces of his life. Kata was very frightened in the shelter environment and so was moved into a foster home where he is a joy to live with.
Kata walks very well on a leash, is great with cats and other dogs, loves to go for car rides, enjoys a swim in the pond, is completely housetrained and trustworthy in the house when left alone.
He spends most of the day quietly napping or looking out the window, but is always ready for a hike in the woods.
He's an affectionate guy that really enjoys being petted and if your hand appears to be unoccupied, Kata will nudge it asking for a pat.
Kata is a bit frightened of new situations and will shy away from a raised hand or quick movement towards him, so a gentle approach to Kata works best.